L22 is a patented noncomedogenic lipid complex, carefully engineered from botanically-sourced lipids.
L22 is composed of a variety of lipid types which are carefully combined in the same ratio as those found on healthy young skin.
Why ?
Skin lipids of diverse types are present on the skin in various quantities. The diversity of lipid types include triglycerides, wax esters, squalene, sterols and sterol esters. In fact, research shows that the relative ratio of each lipid type varies as a function of age. L22 was designed to reflect the skin lipid ratios (profile) found on the skin in young skin1. Mother Nature placed these lipids at specific ratios and this makes L22 a good platform upon which to build innovative and effective skin care products.
1 Cotterill, J. A., W. J. Cunliffe, B. Williamson, and L. Bulusu. "Age and Sex Variation in Skin Surface Lipid Composition and Sebum Excretion Rate." British Journal of Dermatology 87. (1972): 333-40. Print.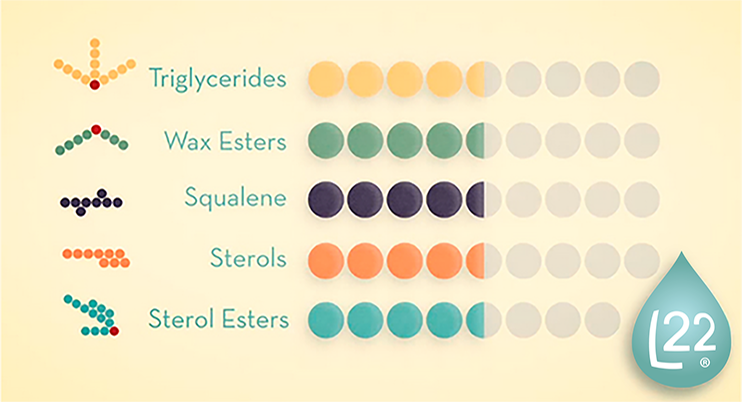 Jojoba Simmondsia chinensis
Jojoba (\hə-ˈhō-bə\) is the only known botanical source of liquid WAX ESTERS very similar to those produced by human skin and contributes this component to L22. Floratech's long history and expertise with jojoba and its unique chemical and physical characteristics inspired the initial development of L22.
Macadamia Macadamia integrifolia
Macadamia produces a luxurious TRIGLYCERIDE oil chosen by many cosmetic formulators for its rich skin feel characteristics. In fact, a component of macadamia oil is interchanged with a chain of the jojoba wax ester through interesterification. This process produces a lipid composition similar to that found on healthy skin.
Olive Olea europaea
Olive oil is the source of SQUALENE in L22. Although squalene may be obtained from various sources, olive oil-sourced squalene both resembles that found on the skin and is of botanical origin.
Frequently Asked Questions
What is ?
L22 is the botanical equivalent of a healthy young adult's natural skin oil (skin surface lipids).
What is made of?
L22 is derived from: Macadamia (Macadamia integrifolia), Jojoba (Simmondsia chinensis), and Olive (Olea europaea).
Where did we come up with the idea?
Floratech, a Cargill company was founded upon the principle that sustainable, botanical, and innovative ingredients can flourish as significant ingredients for cosmetics. As a leader in the area of botanical emollients, Floratech developed a lipid material composed of botanical components with the types and specific ratios of the lipids typically present on the skin surface of youthful health skin.
What are the types of skin surface lipids?
The major skin-lipid types vary in proportion as a function of age and they include triglycerides, wax esters, squalene, sterol esters, and sterols.
What makes special?
L22 is more than just a mixture. We take botanical components and tailor them to more closely match the components of human skin-surface lipids. One important and unique step is the rearrangement of carbon chains between the triglyceride and wax ester components. This results in lipids that more closely resemble the natural components of human skin surface lipids. We then combine them in the proportions typically found in the skin surface lipids of a healthy, young adult.
Is natural?
L22 is 100% botanically derived and can be used in most naturally certified products including COSMOS certified products.
What are the best applications for this material?
L22 may be the sole component, or a major component, of a product's lipid phase in various applications. In fact, at Floratech, we've incorporated L22 into several formulations.
What is the INCI for ?
Jojoba Oil/Macadamia Seed Oil Esters (and) Squalene (and) Phytosteryl Macadamiate (and) Phytosterols
Contact Us / Request Sample
To request a sample or additional information complete the form. Click on formulas above to download the various formulas which showcase L22. Click on efficacy claims above for studies on this innovative product.